Kisama Travel Info in Nagaland, India
Kisama - the Naga Heritage Village located at a distance of 10 kms from Kohima offers a lovely panorama of natures, cheerful and hospitality of people. The idea behind construction of the village is to protect and preserve all ethnic cultural heritages of the ethnic tribes of Nagaland and also to preserve their distinct identity of dialects, customs and traditions for tourists. The winters are the ideal visiting time to this remote tourist destination during the month of December to February.
The village is the gateway to the all important tourism encouragement of the region - the Hornbill Festival which showcases the rich cultural heritage and tradition and allow tourist to have a glimpse and experience into the Heritage Village, Kisama. You can enjoy the local cuisines, culture, language and the hospitality which is distinct in nature. The Heritage village is designed in a traditional patter to keep alive the Naga culture. It consists of a cluster of sixteen houses of each tribe created in the indigenous typical architectural designs and concepts with significance."Morung or Youth Dormitory"is the name given to the tribal house. The Heritage Complex also house a World War II Museum, Bamboo Heritage Hall, Bamboo Pavilion, Kids Carnival, Horti-Scape, Food Courts and Stadium for Live concerts, Naga Idol, Beauty Pageant, Fashion Shows, etc.
To Reach
The closest town to Kisama is Kohima the capital of Nagaland approximately 12 kms from the destination. Shared taxis travel all the way from Kohima to Kisama, for your convenience private taxis operate in the route. Nearest Railway station is at Dimapur which is around 74kms from Kisama. It has well established rail connectivity with entire of North east and the rest of the country. Dimapur is also the closest Airport services which is connected to Guwahati making it accessible to the rest of India.
Location Map
Tour Packages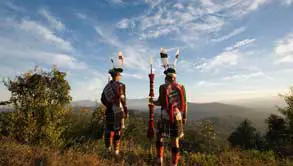 Druation : 6 Nights 7 Days