Manas Wildlife Sanctuary Travel Info in Assam, India
Acknowledged as the UNESCO World Heritage Site – Manas National Park is a Tiger reserve, an elephant reserve and a biosphere reserve in Assam, India. Located at the foothills of the Eastern Himalayas, the park is known for its rare and endangered wildlife species. Manas National Park is a wonderful tourism destination for wildlife and forest lovers to explore and photograph some of the rarest species existing in the world. Preferably winter is the ideal time to fix a itinerary for observing the natural fauna and flora. From November to April the wildlife reserve normally remain open. May to October it remains closed for monsoon.
Manas National Park is recognized not only for its rich biodiversity but also for its spectacular scenery and natural landscape which also includes a range of forested hills, alluvial grasslands and tropical evergreen forests. The wild buffalo population is probably the only pure strain of this species still found in India. The fauna of the sanctuary include Indian Elephants, Indian Rhinoceros, Gaurs, Asian Water Buffaloes, Barasingha, Indian Bengal Tigers, Indian Leopards, Clouded Leopards, Asian Golden Cats, Dholes, Capped Langurs, Golden Langurs, Assamese Macaques, Slow Loris, Hoolock Gibbons, Smooth-coated otters, Sloth Bears, Barking Deers, Hog Deers, Black Panthers, Sambar Deers and Chitals. It is also the home to some of the rare and endangered animals in the planets like the Assam Roofed Turtle, Hispid Hare, Golden Langur and Pygmy Hog. It also hosts around 450 species of birds which includes great Hornbills, Jungle Fowls, Bulbuls, Brahminy Ducks, Khalij Pheasants, Egrets, Pelicans etc.
The ecosystem of the park consists of three types of vegetation: semi-evergreen forests, mixed moist and dry deciduous forests and alluvial grasslands. The range of habitats and vegetation also accounts for high plant diversity that includes 89 tree species, 49 shrubs, 37 under shrubs, 172 herbs and 36 climbers. Fifteen species of orchids, 18 species of fern and 43 species of grasses that provide vital forage to a range of ungulate species also occur here.
For tourists gypsy safari in the jungle is available along with elephant safari is also done in Manas National Park. River rafting another attraction for tourists in Manas.
To Reach
Approximately 5 hours drive is the Nearest Airport - Guwahati (180 kms). Regular flight operates from Bagdogra, Kolkata, New Delhi, Mumbai, Bangalore, Chennai, Jaipur, Hyderabad, Goa, Dibrugarh, Jorhat by Indian Airlines (Air India), Jet Airways, Jetlite, Indigo, & Go Air.
By road it is about 176 kms from Guwahati. The National Highway No. 31 adjoins Barpeta Road (not Barpeta town) which is 22 kms to Bansbari (Manas entry point). Guwahati is also the nearest railway station with all major cities connected with regular train services from rest of the country. Siliguri or Bagdogra Airport is almost 340 Kms from Manas National Park
Location Map
Tour Packages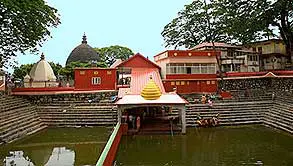 Druation : 7 Nights 8 Days