Majuli Island Travel Info in Assam, India
India's largest river island – Majuli, approximately 450 square kilometers is located in the river Brahmaputra is one of the most relaxed and exotic tourist destination in the North East. It will make you feel like sitting in the lap of nature with shimmering mat of glowing rice fields and water meadows bursting with hyacinth blossoms. The island is a bio-diversity hotspot and has rich ecology with rare breeds of flora and fauna. A relatively offbeat tourist island it offers excellent natural beauty and mesmeric views of the raw and rustic essence of the rural life of Assam in North East India. On the north bank is the river Subansiri and on the south bank, the mighty Brahmaputra has excided the island from the main land. Lakhimpur town is to the north and Golaghat is to its southwest. The town of Sibsagar is on the southeast and Jorhat is to the south. While planning an itinerary for the North East – Majauli is a place not to be missed by the holidaymakers while planning a trip to the North East Part of India.
Dakhinapat Satra (Vaishnavite Satras – temples) is an enlightening experience. This centre will reveal to you the religious traditions of Assam. If you are history lover it is a good learning center for neo-Vaishnavite philosophy, there are 22 Vaishnava Satras in Majuli, the first of which was established in the 15th century by Srimanta Sankaradeva, the father of Assamese culture. Every year in the month of November the Majauli Festival is held which showcases the culture and cuisine of the islanders and Assam.
Birdwatching is a common activity in Majauli with wide varieties of species available especially during winters. You can find several budget accommodations at Majauli. Months from November to March is the right time to visit the place, winters generally coincide during these months giving an excellent climatic conditions to witness and enjoy the place with family and friends.
Mājuli is 20km from Jorhat in the state of Assam. Ferry services are available from Nimati Steamer Ghat which can be reached by commuting a bus or a hired taxi. It takes around three and half hours for the entire journey to complete and reach the spot. Jorhat is also the closest railway station to Majauli approximately 25 kms. Jorhat is also the closest Airport connecting both Guwahati and Majauli for the convenience of the tourists coming from different corners of the country.
Location Map
Tour Packages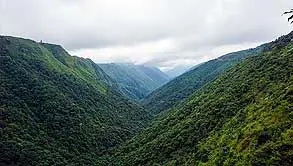 Druation : 7 Nights 8 Days