Kigwema – Travel Info
An unexplored and yet beautiful Kigwema village is located in the Kohima district of Nagaland. The distance from Kigwema village to Kohima is 13 km. For nature and peace lovers, Kigwema is the most serene and exotic destination to explore and spend few days away from the hustle and bustle of the city. One of the most loved tourist spot in the entire of North East India. The village homes provide traditional structures with wooden pillars and local architecture which has been there for centuries. Spectacular hornbill festival can be enjoyed by tourists near the Kisama Heritage village. You can also enjoy traditional dance and music performances by local tribes of the region. For food lovers it is a delight to taste the unique Naga cuisines of Kigwema.
Major tourist attraction is the Dzuko or Dzukou Valley is just about 3 km from the city of Kohima. Other attractions are Kisama Heritage Village, Naga Heritage Village, Kohima War Cemetery etc. Catholic Church, Rengma Baptist Church, Khonoma Village Ground are some more options for tourists. The ideal time to visit is during the months of November to March when the winter sets in providing appropriate climatic conditions for unearthing the beautiful destination. Multiple varied budget accommodation options are available at the place. However home stays are nowadays getting popular in Kigwema to experience the local hospitality and culture.
To Reach
The nearest railway station and Airport is at Dimapur which is around 50 kms from Kigwema. Dimapur is well connected with Guwahati, the major transit base of North East offering convenient rail and air services for national and international tourist across the country and world. Even road connectivity from Dimapur to Kigwema can be availed with private taxis or cabs.
Location Map
Tour Packages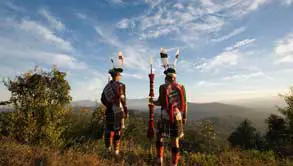 Druation : 6 Nights 7 Days