Kohima Travel Info in Nagaland, India
Perched at an height of 1500 meters above sea level is the beautiful hill station – Kohima in the north eastern state of Nagaland in India. If you look forward to have a memorable and peaceful vacation Kohima is an ideal place to spend with family or spouse. For tourists the best time to visit Kohima is between the months of October and May. These months are conducive for sightseeing and other activities. The town of Kohima is located on the top of a high ridge and the town serpentines along the top of the mountain ranges as is typical of most Naga settlements.
The major tourist attraction is the Catholic Cathedral at Aradura Hill one of the largest cathedrals in the entire North East India and is home to the biggest wooden cross in the country. Another important visit is to the Nagaland State Museum, about 1½ km north, where one can get a glimpse into Naga culture through history. The Zoological Park abounds in rich flora and fauna of Nagaland. In the heart of the town, one can see the last relics of the Kachari kingdom. World War II cemetery can be found along the highway from Imphal to Dimapur.
To Reach
BY AIR - Dimapur is the nearest Airport which is well connected to both Guwahati and Imphal.
BY RAIL - The nearest railhead too is Dimapur, and the Northeast Frontier Railway runs a number of trains from Dimapur to Guwahati. Guwahati is in turn well connected to the rest of the country.
BY ROAD - The State operated buses run from Dimapur to Kohima and the journey takes around 4 hours. You also get some private buses from Guwahati to Kohima. Taxis and mini-coaches are also available for travelling to the respective destination. The distance from Dimapur to Kohima is 74 kms and 145 kms from Imphal.
Location Map
Tour Packages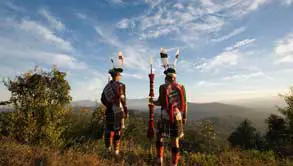 Druation : 6 Nights 7 Days