Bhalukpong Travel Info in Arunachal Pradesh, India
Bhalukpong is a relatively unexplored tourist destination lying on Tezpur - Bomdila route (52 KM from Tezpur and 100 Km from Bomdila) in Arunachal Pradesh in far Eastern corner in India. Apart from being the nature lover's paradise, Bhalukpong can provide you a complete experience with wildlife and a host of activities complimenting its natural beauty and the environment. Truly, one of the best kept secrets of the North East India, Bhalukpong is sure to leave anyone and everyone enchanted for their lifetime and provides ample opportunities to have a sneak-peek into the local native tribes', fascinating cultures, lifestyle and traditions. The Kameng River running in the forest surrounding it makes the town even more attractive. Bhalukpong is an excellent adventure tourist destination offering a scope for plethora of outdoor activities like hiking, trekking, fishing, angling, camping and river rafting.
Located in the foothills of Himalayas in West Kameng district of Arunachal Pradesh, Bhalukpong is known for its breath-taking scenic beauty and serene and tranquil ambience which casts a spell on every holidaymaker coming from different parts of country looking for peace and serenity. Winters are the best time to visit the place with family or friends.
Tourist attractions in Bhalukpung include the Pakhui Game Sanctuary and Tipi Orchidarium, which hosts over 2600 cultivated orchids from 80 different species as well as tigers, elephants, barking dear and more. Best time to visit the center is in April-May when orchids are in full bloom. Pakke Tiger Reserve also known as Pakhui Wildlife Sanctuary and Pakhui Tiger reserve is an 862 sq. km. wildlife sanctuary – the most attractive sightseeing spot in the region where tourists can either go on a day trip or even better can stay at one of the forest lodge.
To Reach
Bhalukpong is 100 km from Bomdila, 52 km from Tezpur. From Tezpur, Taxis and Buses run till Bhalukpong. Any vehicle going to Bomdila from Tezpur will pass through Bhalukpong. Alternately one can come over to Balipara (20 KMs from Tezpur) and catch the buses that ply on Itanagar - Bomdila route and get down at Bhalukpong. It has a railway station namely Bhalukpong Railway Station, connected to Rangiya Murkongselek rail line at Balipara. It has 3 platforms. One pair of trains runs daily to and from here. The nearest airport to Bhalukpong is Tezpur Airport which is 52 km from Bhalukpong. From here, you can hire a taxi or cab till Bhalukpong and continue with it to explore the city. You can also take a bus from Tezpur to Bhalukpong.
Location Map
Tour Packages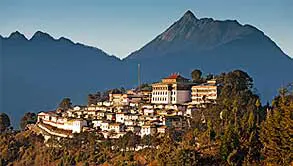 Druation : 6 Nights 7 Days