Dimapur Travel Info in Nagaland, India
Dimapur one of the must visit places of North East India is the ancient capital of the Kachari tribe. If you happen to explore the town in Nagaland, you can find the reminiscences of the glory and ruins of this kingdom scattered in and around the town. For this reason there are many monuments and temples in Dimapur. There are many starlit attractions in the Dimapur like Zoological Park, Ao Baptist Church, Diezephe Craft Village, Nagaland Science Centre, Green Park yet its main highlights remains handicrafts and handlooms. Gateway to the lovely tourist destination of Nagaland, Dimapur in Naga means the 'the city near a great river'. Dimapur is a striking holiday destination for tourists bounded by Kohima district on the south & east, Karbi Anglong district of Assam on the west, the Karbi Anglong and stretch of Golaghat District of Assam, in the west and the north. Moderate temperatures in winters make it ideal for vacationers to visit Dimapur during that season to enjoy and experience the nature, wildlife and history of the place.
Diezephe Craft Village approximately 12 kms from the main town of Dimapur is home to expert weavers and craftsmen, deft in the arts of woodcarving, bamboo and cane works. For nature and wildlife lovers - Rangapahar Reserve forest in the vicinity of Dimapur is home to many endangered animals and birds. Among other tourist attractions in Dimapur it consists of ancient villages, waterfalls, ruins of the Dimasa Kachari Kingdom, Green park, Aqua Mellow park, Zoological Garden, Science Center, Stone park, Hazi park and the Kali Temple.
To Reach
Dimapur is well established road connectivity with Kohima, Imphal and Guwahati. Bus and private car services are available along this route. Dimapur is the only city in Nagaland that is connected by both rail and air. Major cities (Guwahati, Kolkata, New Delhi, Bangalore, Chandigarh, Amritsar) in the country are directly connected with Dimapur. Dimapur also has an Airport with flights from Kolkata, Guwahati and Dibrugarh.
Location Map
Tour Packages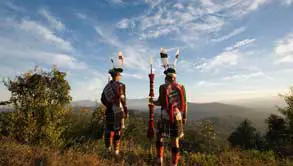 Druation : 6 Nights 7 Days