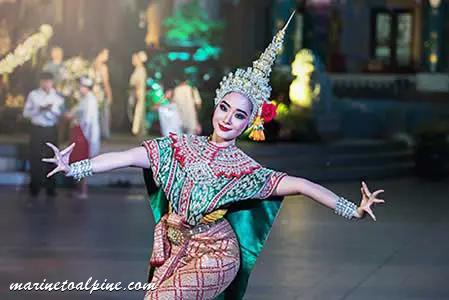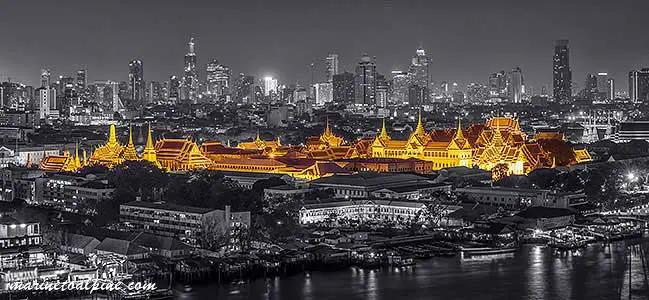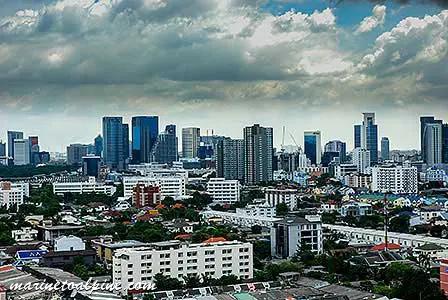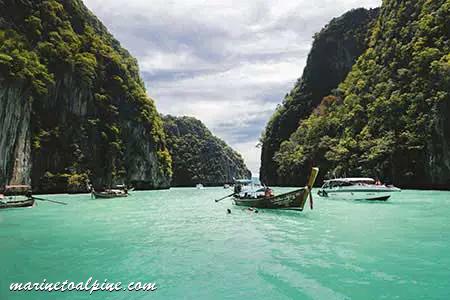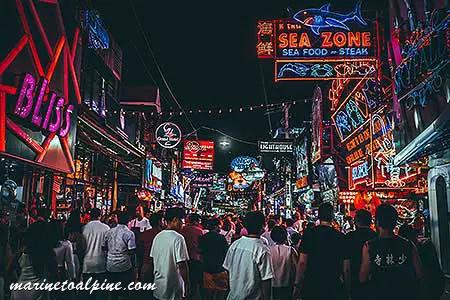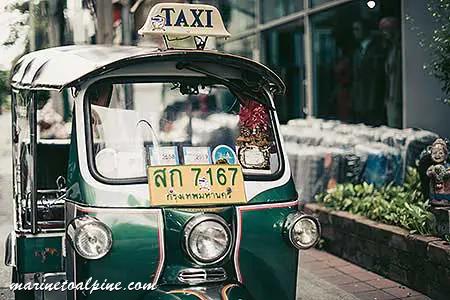 Thailand - Travel information, Tourist Attractions & Tour Packages
Situated in Southeast Asia, Thailand covers a total area of approximately 513,000 square kilometers and is the 50th largest country in the world and the 12th largest in Asia. Thailand used to be known as Siam, and it is the country where Siamese cats originated from. It is just not about beaches, markets and ancient temples as there is much more to the country. One can enjoy the charm of captivating sights with Thailand visit. Few of the most popular destinations are Bangkok, Hua Hin, Phuket, Chiang Mai, KoSamui&Pattaya.
Thailand is divided into six regions: North, Northeast, Central, South, East, and West.
North of the country borders Myanmar and Laos. The northernmost point is Amphoe Mae Sai, Chiang Rai Province, with tourist attractions like Mae Sai Market, Golden Triangle, Wat Phra That DoiWao, and Wat Thampla (locally known as Money Temple). North is the country's highlands. Vast mountain ranges dominate the landscape and are the source of many rivers. DoiInthanon, Thailand's tallest peak, is famous among tourists during the cool season for the Mae Kha Ning (frost flower) phenomenon as well as a sea of fog, nature trails, waterfalls and botanical extravaganza.
Northeast features some of the beautiful northern highlands but also gorgeous plateaus. Hom Mali Rice (Thai Jasmine Rice) is grown here and exported all over the world. The Mekong River is a very prominent river runs through the area. Popular places along the Mekong River include Amphoe Chiang Khan of Loei Province, ThaSadet Market in NongKhai Province, Indochina Market in Mukdahan Province and Sam Pan Bok Grand Canyon is worth visiting.
Central Thailand is mainly plains and is a huge area of rice farming and agriculture. The Chao Phraya River is very important to Thailand's history. Interesting places to visit are ancient historical temples, Bang Pa-in Royal Palace and Bang Sai Royal Folk Arts and Crafts Center in Ayutthaya Province, and KohKret in Nonthaburi Province. One can visit for shopping as there are plenty of markets in Bangkok for Guests to explore such as Wang Lang Market, ThaPhra Chan Market, SaphanPhut (Memorial Bridge) Night Market and Asiatique Night Market. Available also Chao Phraya daily boat tours from Bangkok to Ayutthaya.
South of the country is next to Malaysia and the Gulf of Thailand. Southernmost point is AmphoeBetong, Yala Province, which contains tourist attractions like La-ong Rung Waterfall (Rainbow Waterfall), ChaloemPhrakiat Waterfall (I-yerKhem Waterfall), Bala-Hala Forest, the sea of fog at Microwave Mountain, and Betong Hot Spring. South contains many beautiful beaches and islands in the Gulf of Thailand and the Andaman Sea. Well-known tourist destinations are Phuket Province, KohSamui, Koh Phi Phi, KohLipe, and Koh Tao.
Eastern Thailand is half mountain, half ocean. Although there aren't many provinces here, it still has a lot of amazing sights and stunning locations to visit just like the rest of Thailand such as KohSamed, Koh Chang, KohMak, KohLan, Koh Si Chang, Bang Saen Beach, Pattaya, Jomtien Beach, Laem Mae Phim Beach, and Mae Ram Phueng Beach.
East of the country borders Cambodia and Laos. The easternmost point is Amphoe Si Mueang Mai, UbonRatchathani Province, with tourist attractions like Sai Rung Waterfall (Rainbow Waterfall), Kaeng Chu Kan, and HinHuaiSoob Stone Yard.
West of the country is next to Myanmar and the Andaman Sea. The westernmost point is Amphoe Mae Sariang, Mae Hong Son Province, with tourist attractions like Wat Phra That Chom Thong, Wat Phra That Chom Chaeng, Wat Phra That ChomKitti, Salawin National Park, Bua Tong Field at Doi Mae Ho, and Mae SawanNoi Waterfall. West is mountainous with many woodlands, waterfalls, and dams, which is why there are a number of national parks in the area. Due to its geographical variation, there is a lot of incredible Thai nature to see in this western region.
Tourist attractions include Thong PhaPhum National Park, Srinakharin Dam, Vajiralongkorn Dam, Sai Yok Noi Waterfall, Sai Yok Yai Waterfall, Erawan Waterfall, Mon Bridge, Mueang Sing Historical Park, Three Pagodas Pass, Wat Wang Wiwekaram, Underwater City, The Bridge of the River Kwai, Kanchanaburi War Cemetery, and World War II Museum and Art Gallery. Despite the heavy flow of tourism, Thailand retains its quintessential identity with its own unique culture and history and the colourful people known for their smiles.
Thailand is a kingdom of wonder, filled with spectacular natural, cultural, and historical attractions. Tourism is the major economic factor in the Kingdom of Thailand. The Tourism Authority of Thailand (TAT) uses the slogan "Amazing Thailand" for promotion of Thailand internationally. In 2015, this was supplemented by a "Discover Thainess" campaign. There are about 35,000 temples in Thailand. Thailand is made up of approximately 1,430 islands. Many of the islands have become famous for being featured in Hollywood films. A popular habit of return visitors is to "try out" new islands to find their favourite.
Attractions / Activities on the offer are lot of activities for guests to join in with, many attractions to see, sports to watch or even participate in, and plenty of amazing nature and wildlife to experience. The options include a challenge and aren't afraid of heights, one can't miss out on a paramotor trip. Or if guests prefer a calmer and more comfortable thrilling experience, they can try a hot air balloon tour and soak in the magnificent view. Exciting adventures like zip lining, mountain climbing and bungee jumping are also on offer. Variety of water activities like river and white water rafting, scuba diving and snorkelling are there for tourist to entertain themselves. Guests can also watch some of the world's top-ranked amazing underwater vistas. One can go sailing, and while on the boat, even trying to fish for some delicious. Sunbathe on beaches while reading or listening to local music, or spend time with elephants, riding them, bathing them, and watching them play. Zoos and aquariums for animal lovers are also worth visiting.Elephant trekking has been an attraction for tourists in Thailand for decades. Ever since logging in Thailand was banned in 1989, elephants were brought into camps to put on shows for tourists and to give them rides.
National parks in Thailand are defined as an area that contains natural resources of ecological importance or unique beauty, or flora and fauna of special importance. As of 2015 Thailand's protected areas included 147 national parks, 58 wildlife sanctuaries, 67 non-hunting areas, and 120 forest parks. They cover almost 20 percent of the kingdom's territory.The first national park was KhaoYai in 1961. The first marine park was Khao Sam RoiYot, established in 1966. There are 33 national parks and three marine parks in the process of creation.
Events & Festivals in Thailand - Being diverse and mixed ethnic, cultural, and with religious backgrounds, there are many traditional Thai events and festivals. Among the famous festivals are Loy Krathong and Songkran, which is also the Thai New Year. Festivals are generally related to religions like the Candle Festival on KhaoPhansa Day (Buddhist Lent Day), Tak Bat Thewo Festival on AwkPhansa Day (end of Buddhist Lent Day), the Flower Alms Offering Festival, the Kathina or Annual Buddhist Robe Offering Ceremony, and the Buddhist Forest Robe Offering Ceremony. Some festivals originated from traditional beliefs like the Boon Bang Fai Rocket Festival to ask for favors from the God of Rain. Loy Krathong Festival is also intended for forgiveness from the Mother of River, Rice Blessing Ceremony, the Buffalo Racing Festival and the Long Boat Racing Festival.
Thailand has three seasons: Wet (Monsoon), Cool (Winter) and Hot (Summer). It is always good to check the weather before visiting as some areas are better in certain seasons.
Six major international airports are managed by Airports of Thailand PCL (AOT). Smaller commercial airports may be operated by the Department of Airports or individual airlines. International Airports are Suvarnabhumi Airport (BKK), Don Mueang International Airport (DMK), Chiang Mai International Airport (CNX), Mae Fah Luang Chiang Rai. International Airport (CEI), Hat Yai International Airport (HDY), Phuket International Airport (HKT), Samui Airport (USM), Krabi International Airport (KBV), UdonThani International Airport (UTH), Surat Thani (URT) and U-Tapao International (UTP).Airports with scheduled commercial service are Buriram (BFV), Chumphon (CJM), Hua Hin (HHQ), KhonKaen (KKC), Lampang Airport (LPT), Loei (LOE), Mae Hong Son (HGN), Mae Sot (MAQ), Nakhon Phanom (KOP), Nakhon Si Thammarat (NST), Nan Nakhon (NNT), Narathiwat (NAW), Pai(PYY), Mae Hong Son (PYY), Phitsanulok (PHS), Phrae (PRH), Ranong (UNN), Roi Et (ROI), Sakon Nakhon (SNO), Sukhothai (THS), Trang (TST), Trat (TDX), UbonRatchathani and UbonRatchathani (UBP). Domestic air transport use services of low-cost carriers like Thai Air Asia and Nok Air. Road Transportation system is varied and chaotic. For long distance travel, bus transport dominates. Low-speed rail travel has long been a rural long-distance transport mechanism. Road transportation is the primary form of freight transport across the country. For shorter distance motorbikes are common. There are public motorcycle taxis in Bangkok, Pattaya, and other large cities. The State Railway of Thailand (SRT) operates all of Thailand's national rail lines. Bangkok Railway Station (Hua Lamphong Station) is the main terminus of all routes. Rapid rail transit line are good. Areas with navigable waterways often have boats or boat service, and many innovative means of transport exist such as tuk-tuk, vanpool, songthaew, and even elephants in rural areas.
General Info
Capital & Largest City: Bangkok
Coordinate: 15.8700° N, 100.9925° E
Official languages: Thai
Spoken languages: Isan Kam Mueang Pak Tai
Demonym: Thai Siamese (archaic)
Government: Unitary parliamentary constitutional monarchy
Area Total: 513,120 Square kilometers
Gini (2013): 37.8
Currency: Baht (฿) (THB)
Time zone: ICT (UTC+7)
Drives on the: Left
Calling code: +66
ISO 3166 code: TH
Internet TLD: .th
Legislature: National Legislative Assembly (acting as National Assembly)
Places of Interest
Bangkok
Hua Hin
Phuket
Chiang Mai
KoSamui
Pattaya
Krabi
Prasat Hin Phimai
Khao Yai National Park
Koh Lipeh
Phang Nga Bay
Chiang Mai Night Bazaar
Koh Nang Yuan
Sukhothai Historical Park
Khao Sok National Park
Ayutthaya Historical Park
Floating Market (Market in Boat)
Mu Ko Ang Thong National Park
Places of Tourist Interest
Location Map