Dzukou Travel info in Nagaland, India
Dzukou valley is an astonishingly beautiful region in the border of Nagaland and Manipur in one of the most biodiversity-rich ecosystems in the north east region of India. Surrounded with hill ranges covered with short and tall bamboo, grasses and other flora it is sure to mesmerize the tourists. A fairly unexplored destination which is ought to be included in the holiday itinerary of North East for holidaymakers fond of nature and peace as well as adventurers. The valley receives tremendous numbers of domestic and international tourists because of the natural environment, seasonal flowers as well as the flora and fauna. Dzükou lily is the most popular flower of the region. Manipur's highest peak, Mt Iso, is also located behind this valley.
The place is believed to have around 360 varieties of orchids grow on the hillsides and also rhododendrons and a good number of wild flowers, herbs and plants adorn the valley during the monsoon. Even a lot of trekking options are available for adventurers to explore. During winter, the valley is covered in snow. However it is extremely chilly and cold in winter, an alternative can be in the months of February to April with moderate temperatures for tourists to visit the place.
The name "Dzukou" is derived from the Mao Pukmai language. Dzu means cold or frozen and ku means water. Hence, it is literally called frozen water. During winter, the slow moving river is covered with a thin layer of ice, making it one of the best scenic places to witness in the north east India.
To Reach
Located approximately 80 kms from Dimapur you can make reach Dzukou by road in and around 2 hours. The nearest railway station is Dimapur which is well connected to North-eastern commercial Hub Guwahati. Dimapur Airport has well established air services with Guwahati which is accessed by major cities in India.
Location Map
Tour Packages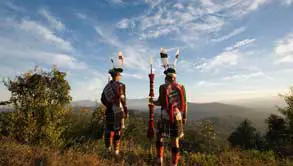 Druation : 6 Nights 7 Days