Tawang Travel Info in Arunachal Pradesh, India
Famous for snowfall during December – January and beautiful scenic view wrapped with the scent of spirituality, Tawang is a town situated at an elevation of approximately 3,048 metres (10,000 ft) in the North Western part of Arunachal Pradesh in India. Tawang town is located approximately 555 kilometres (345 mi) from Guwahati and 320 kilometres from Tezpur. Without a doubt one of the most adorable tourist destination in the entire North East providing perfect opportunity for holiday makers to sit in the lap of nature and enjoy a few days with family and friends.
The major attraction of the place is Tawang Monastery, the largest Buddhist monastery in India. The name Tawang means Horse Chosen. It is said to be the biggest Buddhist monastery in the world outside of Lhasa, Tibet. It is the birthplace of the sixth Dalai Lama and considered to be a major holy site for Tibetian Buddhists. Tourists can travel to Tawang from Tezpur, Assam by road. Tezpur has direct flights from Kolkata. Guwahati the largest town in North East India is 16 hours by road.
The local sightseeing consist of the Tawang War Memorial (constructed to pay homage to the 2420 brave soldiers of the country who sacrificed their lives in the 1962 Sino-Indian War), Jaswant Garh War Memorial located below Sela Pass and above the Jang Township, Buddha Park (Locate in the heart of the town, provides great ambience for meditation and wonderful view of the town)
To Reach
Lokpriya Gopinath Bordoloi International Airport, Guwahati and Salonbari Airport in Tezpur are the two nearest Airport from Tawang . Tawang is well connected by Assam State Transport Corporation buses and private services. If you book a cab or reserve a car it would take around 4 to 5 hours to reach Tawang from Tezpur by road. The nearest major railway station is at Naharlagun, which is connected to major cities. Rangapara Railway Station is the nearest rail head to Tawang, at a distance of 383 km.
Location Map
Tour Packages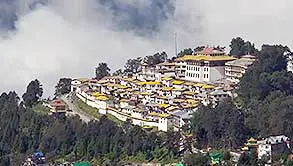 Druation : 7 Nights 8 Days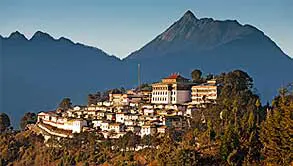 Druation : 6 Nights 7 Days