Tezpur – Travel Info
Situated on the beautiful banks of the river Brahmaputra, Tezpur is identified as the cultural capital of Assam is surrounded by enthralling hills, deep valleys and lush greenery taking you away from the hustle and bustle of the hectic world into a quiet and calm holiday vacation. An all time favourite of the tourists because of the tea gardens, picturesque landscape and mountain ranges is one of the oldest inhabitated city of the state. A visit during the months of winter is perfect to enjoy the natural scenic beauty of Tezpur and its surroundings with family and friends.
The major tourist attractions of Tezpur are Nameri National park, approximately 35 kms away from the city boasting of large variety of wild animals and recreational facilities. Agnigarh is a big fortress built on top of a hill, Bamuni Hills famous for architectural beauty, Bura Chapori Wildlife Sanctuary around 30 kms from Tezpur, One of the most fascinating places is the Cole Park especially for peace lovers which has two impressively ornamented stone pillars and the sculptural remains of the famous Bamuni hill, Hazara Pukhuri is a very huge lake covering an area of about 70 acres (28 ha) and archaeology dates its excavation to the early part of the 19th century etc.
To Reach
By Car : Tezpur is well connected by state and National Highways with other cities and neighbouring states. Regular private tourist buses ply to and fro from Guwahati to Tezpur. Also luxury deluxe buses are available from Guwahati to Tezpur in morning and night hours. Tourists are suggested to avail cab services from Guwahati for better comfort.
By Train : Guwahati railway station is connected to Tezpur Railway Station. Guwahati has established railway network with all major destinations in India which enables tourists to travel from any part of the country.
By Flight : Tezpur also has an Airport which is well connected with Guwahati and Kolkata.
Location Map
Tour Packages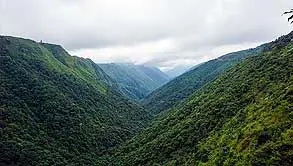 Druation : 7 Nights 8 Days