By TTG Asia / Posted on 15 May, 2023
Hot on the heels of last year's edition which generated billion-dollar revenue for the Thai economy, the leading travel trade event to be held from May 31 to June 2 in Bangkok, continues to spotlight the industry's ongoing efforts towards purposeful adventures through the promotion and development of high value and sustainable tourism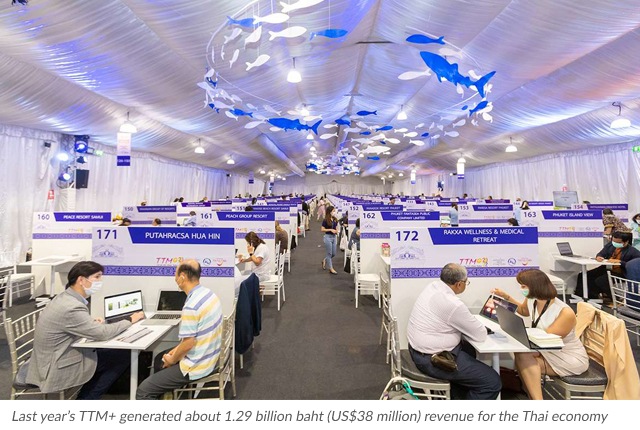 Fully on-site this year, the upcoming Thailand Travel Mart Plus (TTM+) 2023, organised by the Tourism Authority of Thailand (TAT), will be held from May 31 to June 2 at the Queen Sirikit National Convention Center, Bangkok.
Serving as an invaluable business and networking platform for the travel trade, this year's event is expected to attract over 850 participants, including 350 buyers from 50 countries, 400 sellers from across all five regions of Thailand, as well as 100 local and international media.
Buyers include those from key source markets such as Europe, ASEAN, East Asia, America, and Australia, as well as emerging markets such as Eastern Europe, Middle East, South America and South Africa.
The scheduled line-up of TTM+ 2023 features an opening ceremony, updates on Thailand's tourism offerings, a TTM Talk for buyers and media, on-site appointment sessions, a welcome reception, as well as a product update on the Greater Mekong Subregion.
Participants can also expect buyer-seller appointments along with a networking lunch and business networking happy hour session.
There are also three pre-tour programmes from May 30 to 31 and six post-tour ones from June 3 to 5. The tour programming centres on meaningful travel, placing emphasis on experience-driven tourism activities, as well as showcases Thai cultural values through the kingdom's 5F soft power foundations of food, film, festival, fight and fashion.
Additionally, TAT is also hosting the Amazing Thailand Culinary City event, alongside the TTM+ 2023, during the same dates and at the same venue.
Building on its stellar record
Last year's edition at Phuket recorded high levels of satisfaction among attendees on the quality and diversity of the programme, as well as business garnered.
The two days of buyer-seller appointments yielded about 8,000 business appointments and generated about 1.29 billion baht (US$38 million) revenue for the Thai economy.
As the TTM+ was held for the first time in Phuket last year, the 277 buyers from 42 countries and international media had the opportunity to see many of the new tourism offerings that have emerged there and the rest of Thailand post-lockdown, as well as the kingdom's readiness to welcome international tourists in the new normal.
First held in 2001, the TTM+ has gained a reputation in visitor source markets worldwide and within Thailand's tourism industry as a "must-attend" event on the travel trade calendar.
Held mostly in Bangkok each year since its launch, the event was relocated to Chiang Mai in 2016-17, Pattaya in 2018-19, and then Phuket in 2022 as part of the TAT's strategy to promote provincial destinations.

Ref: https://www.ttgasia.com/2023/05/15/thailand-travel-mart-plus-2023-to-focus-on-meaningful-travel/