Namchi, Sikkim Travel Info in India
Namchi, acknowledged as the cultural capital of the Indian state of Sikkim is also a fast developing tourist destination located at an average elevation of 1,315 metres from sea level in South Sikkim. Namchi is the home for many monasteries and religious centres, attracting large groups of pilgrims and tourists throughout the year. The place also offers adventure sports and activities for the adrenaline junkies like river angling and treks. The well known tourist venues are Maenam Wildlife Sanctuary, the Buddhist shrine of Samdruptse also home for the 135 feet high statue of Guru Padamasambhava (It is the highest statue of Guru Padamasambhava in the world), Ngadak Monastery, Tendong Hill, Doling Gompa, Namchi Rock Garden. Chardham (the pilgrim centre) - consisting of replicas of four famous Hindu pilgrimages – Rameshwaram Dham, Jagannath Dham, Dwaraka Dham, Badrinath Dham is the most popular and the best tourist attraction in Namchi. Chardham also consist of the statue of Lord Shiva which is 87 feet long.
The tourists can also witness 21km stretch of the famous Temi Tea Garden (approximately 18 kms from Namchi and located in Ravangla, South Sikkim), the only tea garden in Sikkim producing premium quality tea in the world. While crossing the tea garden, you will negotiate 21 hairpin bends, an exhilarating experience indeed.
Namchi is generally a combined trip with Gangtok, Ravangla, and Pelling. A popular itinerary emerging these days is a day trip from Darjeeling to Namchi. A two day stay at Namchi is probably an ideal duration for properly covering all the spots. Meanwhile you can reach Namchi directly from Siliguri by road (approx 95 kms) It is exactly 100kms from NJP (the nearest railway station) and 105kms from Bagdogra (the nearest Airport). The journey is very scenic and captivating. Sikkim Tourism buses as wells as private and shared taxis are regularly ply between Namchi to Gangtok, Pelling, Jorethang, and Kalimpong. The place offers mid range to budget accommodations which includes hotels, resorts or good quality homestays.
March to June is an excellent time to tour Namchi when the temperature remains moderate and comfortable but with higher vacation expenditures because of the peak season. There is usually no rains during this time offering clear view of the mountain ranges and hill slopes. Another good time is between September to December.
To See
Bon Monastery
Tendong Hill
Serdup - Choling Monastery
Rock Garden
Maenam Wildlife Sanctuary

(one and the only tea estate in Sikkim)
Temi Tea Garden
To Reach
By Air – Namchi is 100 kilometers from Siliguri. The closest air port is at Bagdogra, which is 105 kilometers from Gangtok and connected with all important Indian metros with regular flights from Kolkata, Guwahati, Delhi, etc. Helicopter / Chopper services to Gangtok from Siliguri and back are regular service. Mountain flights and other such tours to North Sikkim are also conducted.
By Rail – Namchi is 100 kilometers from Siliguri. The nearest railhead is at New Jalpaiguri which is 108 kilometers from Gangtok. NJP is well connected with all major cities in India. At Gangtok, railway bookings can be made at the booking counter of the Sikkim Nationalized Transport Terminus.
By Road – It is at a distance of 78 kilometers from the state capital Gangtok and 100 kilometers from the town of Siliguri, the nearest railhead and airport. Namchi lies off the road between Melli and Jorethang. Namchi is well connected to other towns in Sikkim and West Bengal. Jeeps and buses regularly ply between Namchi to Gangtok, Pelling, Jorethang, Kalimpong and Siliguri.
Location Map
Tour Packages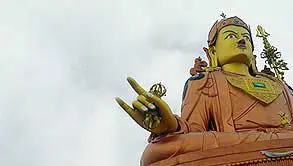 Druation : 5 Nights 6 Days

Druation : 5 Nights 6 Days